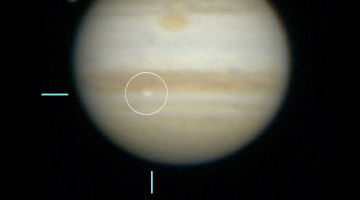 **updated**
FIREBALL ON JUPITER:
On August 20th at 18:22 UT, two amateur astronomers in Japan independently recorded an apparent impact on Jupiter.
This is the third time in only 13 months
that amateur astronomers have detected signs of impact on Jupiter. The earlier events occured on
July 19, 2009
, and
June 3, 2010
. Jupiter is getting hit more often than conventional wisdom would suggest, leading many researchers to call for a global network of telescopes to monitor Jupiter 24/7 and measure the impact rate.
"Like the event of June 3rd, this fireball did not produce any visible debris,"
(Blog's comment: In the mean time between those events, Jupiter mysteriously looses for the first time in recorded history, one of its 2 main dark cloud's stripes.
http://science.nasa.gov:80/science-news/science-at-nasa/2010/20may_loststripe/
Blog's Correction after studying some latest scientific news:
Not for the first time Jupiter looses main cloud belt, it is supposed to happen every 15 years or so, but it is still an unusual unexplained event that happened to occur at the same time with those numerous unprecendented impact events. The conclusions are yours. G.H.REES does not officially comment on those cataclysmic events for the time being. The present post title is only the thesis - assessment of the Blog's editors, who have no organic relation with G.H.REES whatsoever)
Here are some hi-resolution images taken 1-2 rotations before and 1-2 rotations after the event.
http://spaceweather.com/swpod2010/22aug10/rogers.jpg?PHPSESSID=i9gqtmiuuok0t2rhrh9n1eqb03
http://www.spaceweather.com/
Video of the latest impact event:
http://libra-co.com/Jupiter2010Aug20182212UT.wmv
FURTHER RESEARCH:
Clarifications concerning the newly accumulated satellites of Saturn and Jupiter
"Fairy Tale" for ...adults!
PLANETARY SITUATION REVIEW
NASA (petrified with terror) observes the Fleet of the Dragonians and Andromedians
Illuminati Sino-Zionists Columbia and the THUNDERS OF ZEUS
2012 END OF CURRENT WORLD STATUS QUO: FEDERAL ANDROMEDIAN FORCES WIPEOUT PIRATICAL DRACONIAN ASTROFLEET
Blog's response to "skeptic" (close minded) criticism:
Well then, if you consider a "natural event" the spontaneous accumulation of dozens of these IRREGULAR satellites in both the orbits of Saturn and Jupiter for the last 3 years (1999 - 2002) from other vague undetermined points in the solar system, and if you consider a "natural event" the recording by amateur astronomers of the impact on Jupiter of 3 objects of same size as these irregular satellites in less than 13 months (after several years of no observed collisions) and the sametime disapperance of one of 2 Jupiter's main dark cloud belts, "mysterious", "unexplained", "beyond conventional wisdom", althought "natural events" as announced by NASA-NSA-JPL to the cosmopolitan goyim hypnotized public of the Globalized trilateral USA-Europe-Japan-666, then there is definetly something wrong with the intelligence of some (stupid) hebrewsaxons earthlings.