C-MBA Programs: Trans-Pacific Crossings….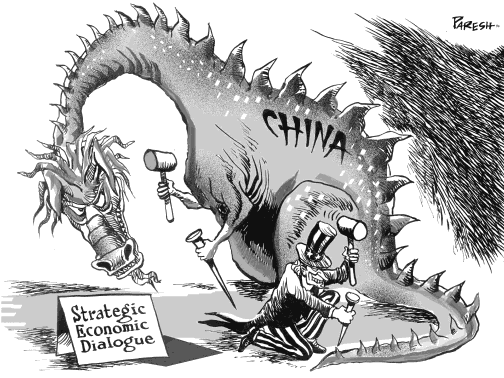 I had the pleasure to accompany the
Cal Poly MBA Program's
learning tour through China yesterday with Professor Chris Carr, professor Jay Singh and a gaggle of new graduates and ongoing students.
One of the cultural differences, of an enormity of variations, that struck a few of the visiting MBA students was the inability of Chinese learners to move between departments. Students enroll for a major and are not permitted to transfer to another department. This is common at most schools like the one we visited and others that remain comfortable teaching via traditional Chinese methodologies.
However, both East and West are looking to each other to fill in gaps their respective time-honored traditions have created. Within twenty-four hours of our tour, I noticed online advertising for three of America's top business schools now actively recruiting in China: Harvard, Duke, Lingnan, and Maryland. Conversely, American curriculums now have programs structured to focus on China. International business leaders, Chinese or American, know that cooperative negotiations often yield better results than competitive ones. I'm especially impressed with the program at Cal Poly structured to culminate in a four-credit business and cultural study tour of China. Cal Poly has beat Yale to the punch in the hope of internationalizing its graduates, but Yale's president Levine wants
every
Yale student to spend time living or studying abroad as part of an undergraduate experience.
Wall Street Journal's Jason Loew quotes the president of Yale University as saying, "the U.S. isn't issuing enough work visas to the highly trained foreigners who graduate from U.S. universities each year." He suggests raising the caps on visas for foreign-born holders of doctorate degrees in order to further capitalize on the sea turtle phenomenon I posted about recently. If Yale's Richard Levin had his way, he said, he would "staple green cards, as permanent resident cards are known, to their Ph.D. diplomas."
He cites our growing need for trained engineers and scientists in hopes to capitalize on their discontent with conditions in their homeland. If I had my way, the US Department of Education would be putting more money into developing our own crop of science-savvy graduates and further, we'd be developing more incentives for cross-cultural exchange in education.
If it is so important for us to bring in foreign talent because we are not able to supply it, I think the answer also lies in marketing in-country programs to the Chinese. Because according to Loew, Congress permitted 85,000 H-1B (stay behind) visas to be issued this year, of which about 20,000 are reserved for foreigners with a graduate degree from the U.S. Loew writes, "There were so many applications this year the U.S. Citizenship and Immigration Services stopped accepting forms one day after it started the process." It signals something is amiss either in the social or educational structure extant in China. Even though China is offering incentives to returnees, the odds of getting rich here are much greater than those in America, and Sinophobia is fast returning, they are still opting to travel and stay abroad.
Employers and of course universities continue to put pressure on Congress to raise the visa quota, but last year's immigration bill failed to go through. "Companies want it. The universities favor it," Mr. Levin said, according to Loew.
Loew's article reminded me that a handful of schools are beginning to adopt Western liberal arts approaches to education, likely as a way to preclude students' dissatisfaction as much as gain competitive traction in the global marketplace.
Two of China's top ten universities, Fudan University and Beijing University, are taking small steps towards liberalizing their curriculum in hopes of advancing innovative thinking. Around 10% of students at Beijing University can explore a variety of subjects for the first three semesters before focusing on a major. At Fudan University, all freshmen are now being integrated into a liberal arts-based curriculum.
Educational innovators in the United States and the UK need to seize the day and begin offering courses at home and abroad that integrate the best of East and West. England and America have long ago industrialized education but managed to maintain high standards and the majority of the world's top 100 rankings for schools. They have sacrificed quality by industrializing their educational system so rapidly, so this is one case where they have more to learn from us than we have to learn from them. But, with the Chinese government throwing huge dollars toward overseas education in hopes of even getting a small return, and with educational institutions beginning to functionally adopt workably good methodologies, it's time other schools follow in the footsteps of Cal Poly, Lingnan, Duke, Harvard, and Maryland.
http://onemanbandwidth.com/wordpress/2007/06/22/c-mba-programs-trans-pacific-crossings